NEWS Slash ft. Myles Kennedy & the Conspirators out in september
|
Slash has announced the publication of the concert held at the London's Hammersmith Apollo feat Myles Kennedy and the Conspirators. The band will publish a limited edition pack of the event that seems it should go out the 20th of semptember
The European tour of Slash and the Conspirators is came to an end. The US's band is currently engaged in the American tour dates, started the last 15h of July in San Francisco .
But surprises are not ended ended yet!!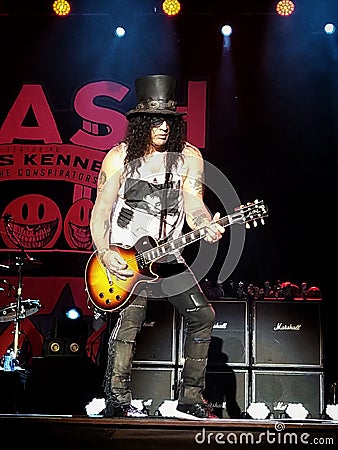 © Photographer: Francesco Marcucci | Agency: Dreamstime.com
As announced by his official web site, the Guns N' Roses guitarist and his band due out a Limited Edition ep's of the highly-charged live concert held at the London's Hammersmith Apollo.
It should be relased on 20th of September worldwide.
The live concert will release on DVD+2CD, Blu-Ray+2CD, 3LP black vinyl, 3LP red vinyl, digital video & digital audio.
But that is not all!! only a very limited amount of signed copies will be available for Slash super fans!!! More info on Slashonline.com
Living The Dream Tour features Slash & co. roaring through a 2-hour set of tracks from all four of Slash's solo albums. The set includes "Call of the Wild" "Driving Rain," "By The Sword," "Back From Cali," "Starlight," "World On Fire" and "Anastasia." There's a searing live version of "Shadow Life," as well as "We Are All Gonna Die" and "Doctor Alibi," during which lead singer Myles Kennedy switches vocal duties with bassist Todd Kerns. Watch a "First Look" of the Living The Dream Tour as the band performs "Anastasia."
© Photographer: Francesco Marcucci | Agency: Dreamstime.com